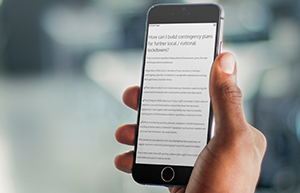 How can I build contingency plans for further local / national lockdowns?
A very common question being asked at the moment, given the new tiered approach to lockdowns.
Regardless of the size or location of your business, creating a contingency plan for a lockdown is a pragmatic approach to working through these uncertain times.
✔️ Best place to start is to review how your business coped during the countrywide lockdown and review what worked and what didn't.
✔️ Key things to think about are, if your staff cannot get to their place of work but can work from home, ensure they have the necessary equipment. Once again retail and hospitality may have to consider moving parts of the business online or operating a reduced service.
✔️ When considering working at home, employers should implement a working at home policy, consider IT equipment and systems needed and carry out any necessary risk assessments.
This pandemic has definitely not only highlighted the importance of regular business continuity planning but to test if it works in reality!
If you need some help with getting a plan in place, get in touch and we'll help make sure you're read as can be.